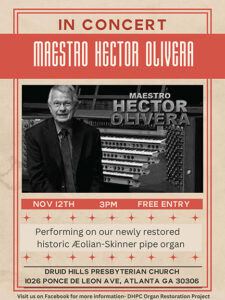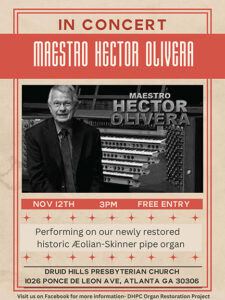 October 25, 2023
We are so pleased to invite you to a FREE organ concert by Maestro Hector Olivera to celebrate the newly restored historic AEolian-Skinner pipe organ at Druid HIlls Presbyterian Church.
Date: November 12 at 3 p.m.
Location: Druid Hills Presbyterian Church, 1026 Ponce de Leon Ave, Atlanta GA 30306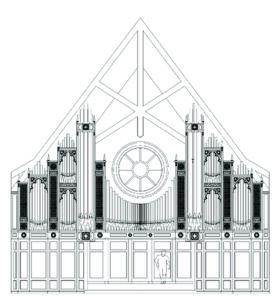 May 3, 2023
We are honored to announce our contract with
Our Lady of the Assumption Catholic Church
in Brookhaven, Georgia, to build a
new 60-rank instrument for their sanctuary.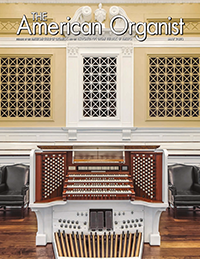 April 25, 2023
Check out the May 2023 issue of TAO
featuring on the cover our work at
Southern Baptist Theological Seminary
in Louisville, Kentucky.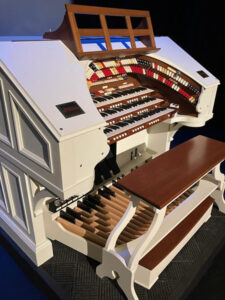 April 17, 2023
The restored organ reinstalled at the Lucas Theatre, Savannah College of Art
and Design, was a resounding success last Friday evening at the spectacular
event to reintroduce it to the community (see link to article below). Much credit
goes to John Tanner and the production team at A.E. Schlueter Pipe Organ
Company, who tirelessly worked on this project to ensure its total success.
John literally poured his heart and soul into this organ, having his own
personal connection to the project. Our friend Ken Double spent many hours
consulting on the project and as always delivered an amazing performance.
Congratulations to all! See published article
here.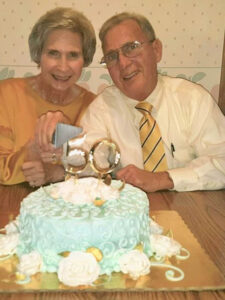 April 15, 2023
It is with very heavy hearts that we relay the news that our co-worker and
friend Bob Weaver passed away this morning. Bob was a very sweet
person, he was always talking, making us laugh and smile. We will
always remember him that way. This photo is from his 50th wedding
anniversary with his "lovely bride" Jerrie Lee, to whom he was devoted.
His last message to all of us was that he loved us! Rest in Peace our
friend, we will sorely miss you.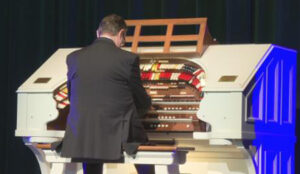 April 12, 2023
SCAD welcomes back original 1925 Wurlitzer organ to the Lucas Theatre
following rebuilding and expansion by A.E. Schlueter Pipe Organ Company.
See published article here.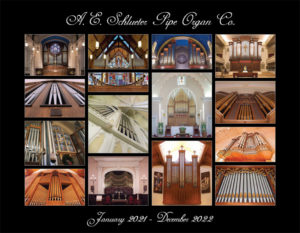 December 14, 2022
Our 2023-2024 pipe organ calendar is now available.
How can we help you? Click here to contact us.
Powered by imijit.net  |  Copyright 2023 A.E. Schlueter Pipe Organ Company. All Rights Reserved.  |  Privacy Policy