New Pipe Organs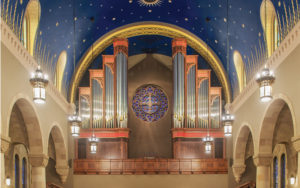 We invest our time and focus to consult with our clients to design custom pipe organs, large and small, to meet their own particular needs, desires, environment, and musical and liturgical requirements.
The instruments built by our company will have a lifespan beyond our own and this guides our emphasis on quality and long-term durability of components and methods. To provide the highest quality, all of the major components and assemblies used in the building of instruments, organ addtions, consoles and organ cases are built in our facility. We have invested in the future with the implementation of computer assisted design (CAD) and computer numeric controlled (CNC) machines. This technology allows the visualization of the instrument and its components prior to building, with accuracy measured in thousandths of an inch. The ability to maintain these tolerances is unparalleled in organ building history. We build slider, electro-pneumatic, and electro-mechanical chest actions.
Our instruments are designed to allow ease of service, maintenance and tuning. The work of our firm is warranted for ten years parts and labor.
Rebuilding and Restoration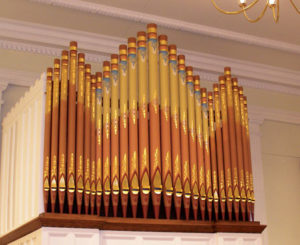 Breathing new life into well-loved instruments is as important to us as building new instruments.
As a major rebuilder of pipe organs, we have rebuilt many instruments by companies long since passed, as well as many built by firms currently in business. The same quality and ethic used in organ building is employed in organ rebuilding. Tradition materials and methods assure the intent of the original builder is maintained. Our firm can be sensitive to preserving an instrument as originally installed without alterations. We are also willing to consult on changes that can expand the tonal capabilities of the organ. Where additions are installed, these are scaled and voiced to provide a cohesive blend with the existing instrument.
Tuning and Service
Keeping your instrument sounding it's very best is a very important service that we offer. Pipe organs need to be tuned twice a year as the seasons are changing and building climate control is being switched from cooling to heating. Our office contacts our clients when "tuning season" is approaching to schedule their tunings. During the tuning visit our technician will also check to see if there are any problems that need to be addressed and will either make repairs that are able to be addressed at that visit or make a recommendation regarding the appropriate action that needs to be planned for and scheduled in the future.
Insurance Claims
Our firm is an experienced consultant to insurance companies regarding claims involving damage to pipe organs. We will come onsite to provide inspection and take photographs in order to provide the detailed photographic and technical documentation, and representation for insurance claims that is necessary in order for the insurance company to realize the extent of damage and/or compromise to the integrity and longevity of a damaged instrument. This approach has won our recognition within insurance circles as an industry expert and leads to satisfactory processing of claims for all parties involved.
How can we help you? Click here to contact us.
Powered by imijit.net  |  Copyright 2023 A.E. Schlueter Pipe Organ Company. All Rights Reserved.  |  Privacy Policy