For nearly 50 years, A. E. Schlueter Pipe Organ Company, Inc, has been responsible for building, rebuilding, refurbishing, and maintaining the finest pipe organs across the United States. Although there are notable specifications, and imperial examples of the artistic and mechanical ingenuity of pipe organ building, the soul of organ building is found in artisans who build or re-build one of a kind instruments. The true strength of this company is the talented, dedicated, professional staff.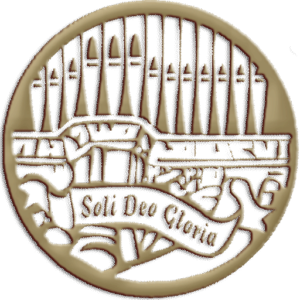 In 1973, the company was founded by Arthur E. Schlueter, Jr. to sell and service the finest pipe organs, emphasizing quality and value. "Soli Deo Gloria" (to God alone be the glory) was incorporated in the company seal to indicate the Christian roots and principals in which the company was founded. To provide the highest quality, the firm manufactures all of the major components and assemblies used in the building of instruments, organ additions, consoles, and organ cases.
Today, A. E. Schlueter Pipe Organ Company is responsible for the care of over 230 pipe organs. The staff includes Mr. Schlueter's son Arthur E. Schlueter, III, who serves as Vice-President of the firm. The firm annually builds and rebuilds many instruments in the United States.
Starting from humble beginnings, the business gradually outgrew successive temporary and rented buildings, until 1988 when the current complex was begun. Now providing nearly 18,000 square feet of space, the facilities include a modern woodworking shop, a voicing room, a drafting and engineering room, and a spacious warehouse area which houses the CNC machine, storage and erecting room. With our most recent addition we now enjoy the largest pipe organ facility in the southeast. Having one of the most modern, custom built organ-building facilities provides our staff with the space needed to serve our customers and support our sales, repair, and organ building activities.
We also offer tuning and maintenance to churches, schools, theatres, and homes across a vast portion of the Southeast. Our tuning and maintenance staff practice complete and thorough tuning methods as well as perform a variety of repairs on sight.
Did You Know?
A. E. Schlueter Pipe Organ Company, Inc. employs more members of the American Institute of Organbuilders than any other organ firm in the Southeast.
A. E. Schlueter Pipe Organ Company, Inc. is truly the largest manufacturer of pipe organs in the Eastern United States, producing more ranks of new organ per year than any other Eastern organ building firm! Be sure to see our Current Projects page for more information about our current and most recent work.
It's easy to add your instrument to the A. E. Schlueter family today.
How can we help you? Click here to contact us.
Powered by imijit.net  |  Copyright 2023 A.E. Schlueter Pipe Organ Company. All Rights Reserved.  |  Privacy Policy